James Galanos, Wool Evening Suit. Fall 1984.
Evening suit. Black and white wool with leather and mink.
Fall 1984. Image Collection: Drexel Digital Museum. DDM_Galanos_James_04.
Object Collection: The James G. Galanos Archive at Drexel University.
An innovative mix of textures and pattern – plaid wool, fur and leather – come together in this monochromatic evening suit. The beautiful sleeve detail plays the luster of black mink against the sheen of black leather, black on black being a motif represented in each of Galanos' collections. Black was a favorite color, manipulated to emphasize silhouette, volume and proportion (1). In his west Hollywood home the polished granite floor is black, causing this author to feel she was levitating through his marvelous collection of art and antiquities on a visit in 2007.
Fall 1984 was the height of the power suit and Galanos played with several potential bottoms, as seen in his original sketch below, to pair with the strong cut and statement of the jacket, finally deciding on the pencil skirt.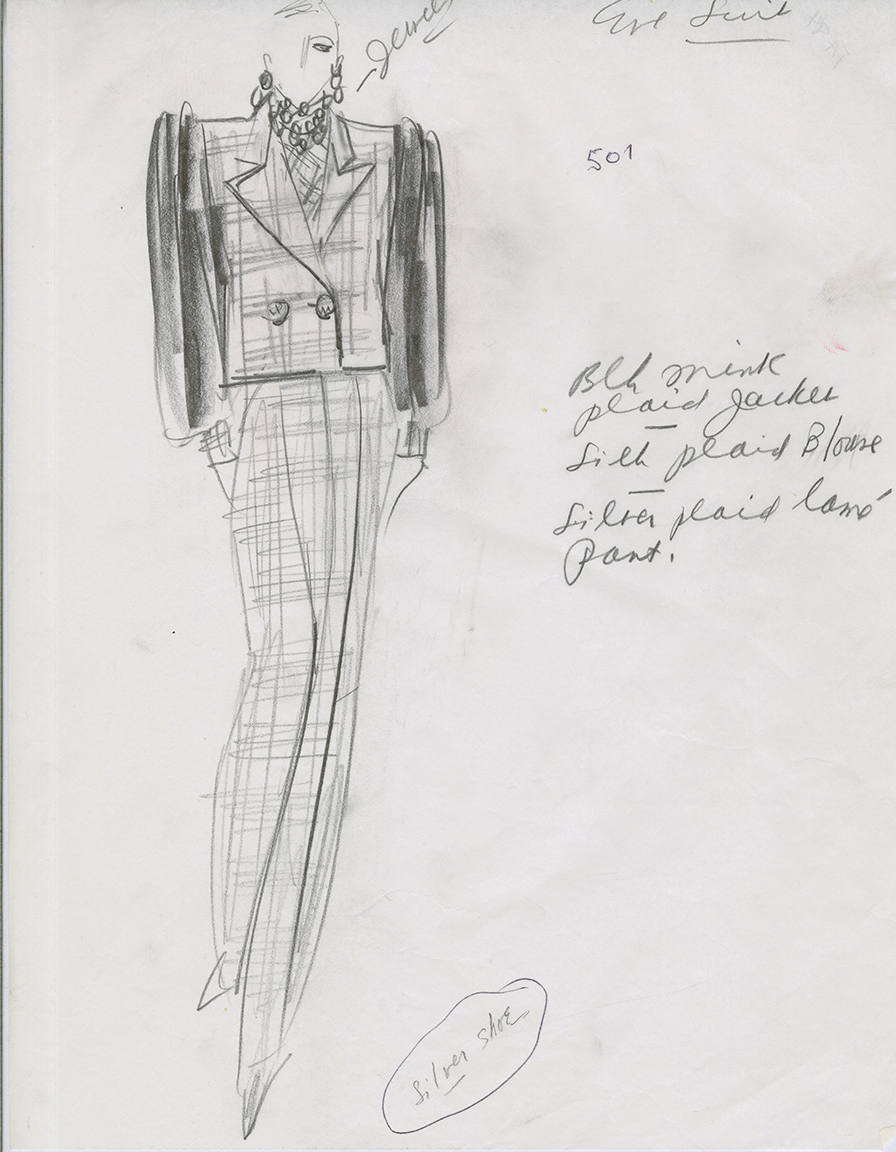 Sketch on paper. 1980s. James G. Galanos Archive, Drexel University.
Recognition came early in Galanos' career. He was presented with the Neiman Marcus Award on September 6, 1954. This was quickly followed in November by the Coty Award, becoming the youngest designer ever to receive this most prestigious honor in American fashion at the time. Two years later, he won a second Coty Award, and in 1959 he became the youngest inductee into the Coty Hall of Fame. In 1963 he was given the Crystal Ball Award from The Fashion Group of Philadelphia. His reputation for impeccable construction and embellishment was renowned in Europe and Great Britain and in 1965 he received the London Sunday Times International Award. In 1985 his extraordinary accomplishments were recognized by the The Council of Fashion Designers of America Lifetime Achievement Award. "It was an unusual career," the designer muses. "I was either the youngest or the first with every honor. By the time I was in my 40s, I was called a 'legend.' (2)" His plaque was one of the first on the "Fashion Walk of Fame" on Seventh Avenue in New York City.
Drexel University has honored Galanos on several occasions beginning with the Drexel Fashion Award in 1965. On November 16, 2006, he received The Crystal Ball Award from The Fashion Group, Inc of Philadelphia and The Philadelphia Fashion Council, hosted by Drexel University, inducted him into the Philadelphia Fashion Hall of Fame at a gala at the Union League of Philadelphia, preceded by cocktails at Tiffany & Co. https://wwd.com/fashion-news/fashion-features/philadelphia-fashion-honors-galanos-516171/ Selections from the event brochure are in the link below. We'd love to include images taken by any attendees in our story. If you were there and would like to share, please contact me at martink@drexel.edu.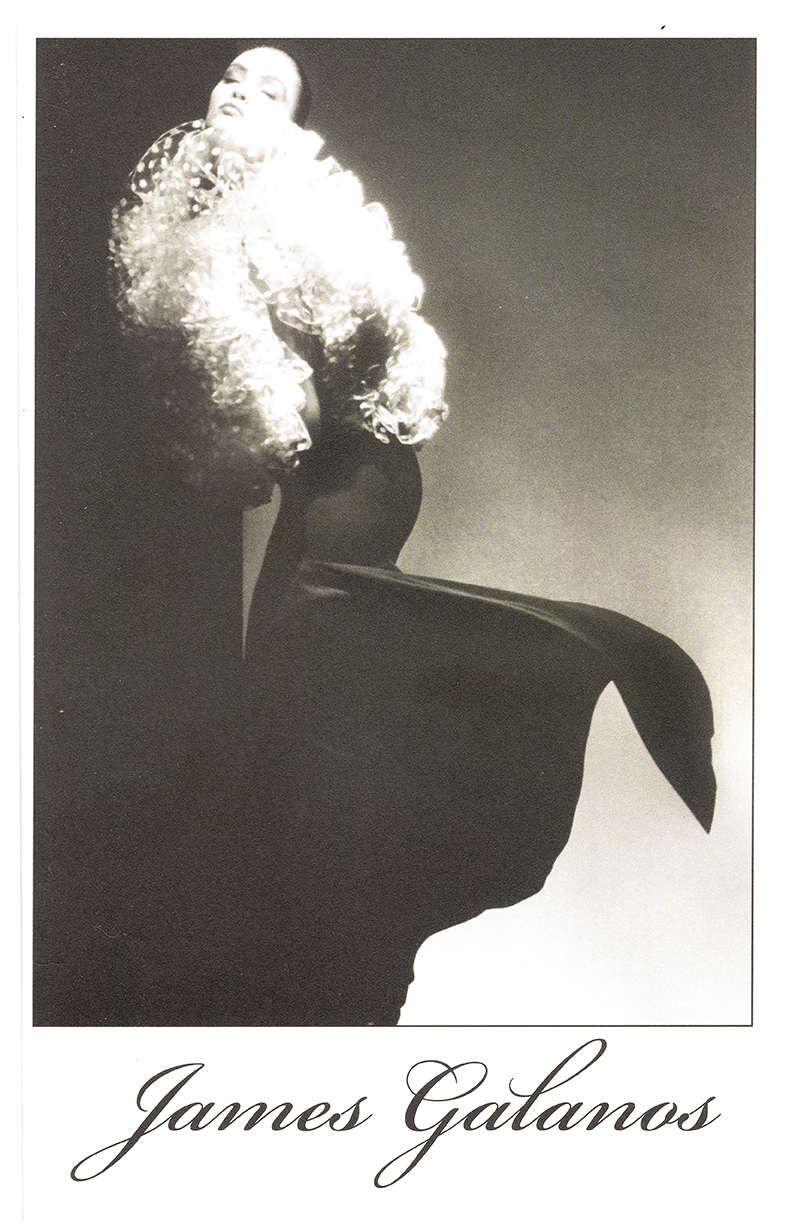 Program, James Galanos induction into the Philadelphia Fashion Hall of Fame
In honor of his award, an exhibition of Galanos fashion from the Drexel Historic Costume Collection, "Galanos: The Great Philadelphian, Fashion at its Best", was held in the Rincliff Gallery, Drexel University, November 13, 2006, to January 12, 2007. To open the exhibition Galanos gave a lecture to Fashion Design and Design & Merchandising students and faculty in the A.J. Drexel Picture Gallery and critiqued the evening wear projects of the senior and second year graduate fashion students. Students continue to be influenced by this great American designer through the generous contribution of his personal archive to the University by the James G. Galanos Foundation. The 700 piece archive contains over 600 ensembles for day and evening along with sketches, publicity photographs and other ephemera. We look forward to sharing this remarkable material culture resource with all who have an interest in masterful, visionary fashion design.
1 – Rucci, Ralph (2018) Forward in James Galanos Design Integrity, Clare Sauro, Cara Fry and Monica Stevens Smith, Philadelphia: Westphal College of Media Arts & Design. p.7.
2 – Collins, Amy F. (April 14, 2007) When Galanos Spelled Glamor. Vanity Fair. New York: Condé Nast. https://www.vanityfair.com/style/2007/04/james-galanos